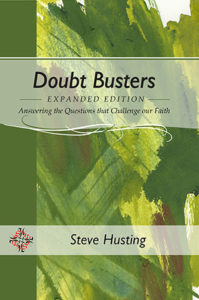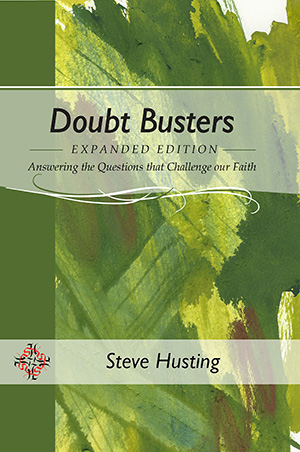 Doubt Busters Expanded Edition: Answering the Questions that Challenge our Faith
ebook  |  print 6 x 9″
This massive compilation of 140 Christian questions and answers go from the interesting (How can you believe a dead man came back to life?) to the incendiary (Why does God hate homosexuals?), to the irritating (How many angels can dance on the head of a pin?).
These age-old difficulties have caused many people to question the Christian faith. They are tough questions, but they have solid, satisfying answers that can banish your doubts. This handy volume covers the material with a friendly, readable style using personal anecdotes, real-life stories, and analogies from nature. The author drew from his years of teaching God's Word and writing devotionals to write plainly and root his answers in the Word of God.
Who should read this? Doubt Busters is perfect for those whose faith is being crippled by nagging doubts, for it gives plain yet full answers to perplexing Bible questions. It's a terrific resource for those who want to share their faith, and want to answer the questions that come their way. It's a great gift for young people who are just starting to think about what their faith means to them.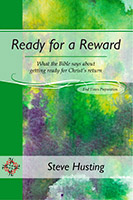 Ready for a Reward: What the Bible Says about Getting Ready for Christ's Return
ebook  |  print 6 x 9″
This immensely practical book answers many important questions related to the Judgment Seat of Christ, such as:
What are the prerequisites for receiving the greatest rewards?
Will Jesus judge us according to our works?
Will God remember my sins after I die?
Since I'm already saved, do I really need to worry about a time of judgment?
Isn't working for a reward a form of legalistic bargaining with God?
This book will revive your zeal for the things of God. It will strengthen your stand against sin and worldliness. It will help you detect your weaknesses and renew your spiritual priorities.
You have but one life to live, and then the judgment. In simple language, down-to-earth illustrations, personal life stories, and abundant scriptural teachings, Steve shows us how to come to the throne ready for a reward – for a well-deserved crown, throne, and the everlasting inheritance reserved for those ready in faith.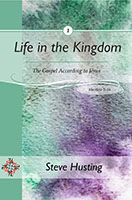 Life in the Kingdom, book 1: The Gospel According to Jesus in the Book of Matthew
ebook  |  print 388pp, 6 x 9″
Have you ever asked yourself, "Is this all there is to being saved? Isn't there something more to this?" Most of us are only being taught half a salvation. Jesus' views on salvation are quite at odds with the way many of us experience it in our day-to day-lives. Life in the Kingdom is a devotional commentary on living the Christian life as Jesus anticipated it. Covering Matthew chapters 1-14 in this volume, we begin to see how the many elements of the Christian life are actually building materials for the Kingdom of God. We Christians seldom use the phrase, "Kingdom of God," choosing rather to use "saved." But seeing our salvation in the context of the Kingdom clarifies our why we do what we do, our position in God's plan of the ages, and imparts meaning to us who surrender to it.
Notes in the Margin: God has Something to Say about Every Verse
ebook  |  print
These brief thoughts, one for every verse in Matthew's 28 chapters, will challenge you to dig deeper into God's Word. God has something to say to challenge us in every verse of scripture, and speaks to us where we are to draw us to a closer walk with Him. Written by a writer who has penned hundreds of devotionals, he knows how to pinpoint the issue we need to face to grow as Christians. (Formerly titled, The World's Shortest Devotionals in Matthew.)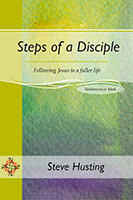 Steps of a Disciple: Following Jesus to a Fuller Life
ebook  |  print  |  Android app
Throughout the Gospel of Mark, we find Jesus teaching His disciples how to live for Him. Those teachings are ours as well, that we too may learn to walk in the steps of Jesus. I've applied my experience in writing hundreds of devotionals to draw out of this precious gospel over 220 lessons on how to live a life that pleases God. I hold up my failures and difficulties to the light of the Word of God and show you how to rise above your own weaknesses by the love and power of God. Let Jesus teach you how to surrender to Him, for His victory in life is yours as well.
Includes 16 full-color calligraphy artworks, one for each chapter, in the app version, and the same artwork in grayscale in the print edition.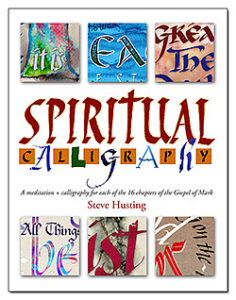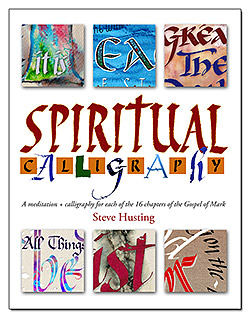 Spiritual Calligraphy
print 33pp, 8.5 x 11″ |  watch the video
See God's Word glorified in these 16 passages from the Gospel of Mark, each one beautifully illustrated with stunning calligraphy paired with an insightful meditation. Full color throughout. Also includes information and photos about the calligrapher's tools used throughout the book. May the combination of calligraphy + meditation cause you to pursue the treasure outside the pages, the true beauty that is written on the heart by God.
These artworks appeared in the app version of Steps of a Disciple.
Book review from a judge, 23rd Annual Writer's Digest Self-Published Book Awards:
"Wow, what an artistic talent the author has. The calligraphy is stunningly beautiful and makes the reader want to learn the craft. Very well done. The book is gorgeous, especially since the author chose a taller layout to really show off the detail in the illustrations. Seeing these full-page images, it occurs that the cover could be a more impressive single image than the collection of "tiles" on the current cover. Those snippets don't do the author's talent justice.
"Great concept, illustrating the Gospel of Mark–very unique and a great pull into the subject matter. Well done. Author has designed a book of great balance between the art and the text; each section is concise and appealing.
"Excellent choice to include details on the calligraphy tool used, as well as the symbolism and reasons behind the illustrations. When the later sections don't have this, they are missed. It's a great strength of the book. The best illustration is on page 12, with the "I" made bigger. So powerful. Well designed.
"The text explorations of the gospels start off a little preachy, but quickly move away from any over powering and get very inspiring. They're written in a terrific tone, very approachable, and in a way that engenders personal exploration of the points. Author knows this subject matter well, and we know we are in good hands in the sharing of these points … made all the better by the pairing of the artistry. A gorgeous read."